Alaska Ocean Wilderness Expedition
Discover adventure minutes from downtown Ketchikan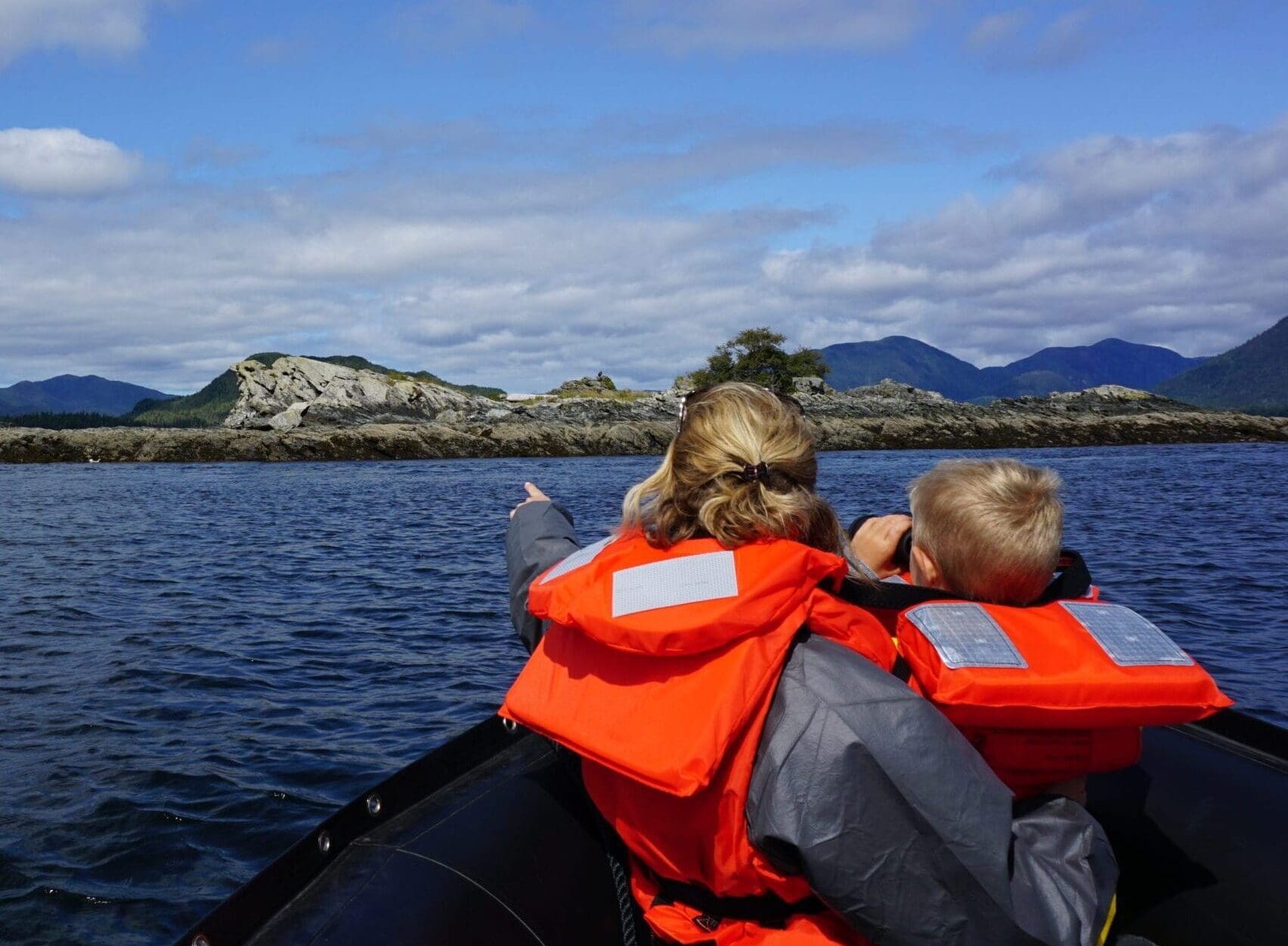 Go on an adventure as you explore the deep mysterious waters of island studded sea passages in search of wildlife aboard a rugged Zodiac expedition craft. Your experienced captain and expert naturalist will use their considerable local knowledge of the area to unlock the secrets of this biologically rich ecosystem. You will feel the ocean breeze on your face and taste the salty sea air as you skim across the waves. You will indulge your curiosity as you navigate narrow channels, next to rocky coast lines, emerald forested islands, and black sandy beaches. You will become an explorer, a mariner, an adventurer.
Read more
You will experience the joy of discovery as you encounter one of the natural wonders of the world. The waters of Southeast Alaska are subject to huge tidal swings. Theses tides can rise and fall over 20 feet in six hours! This large volume of water swirls against underwater canyons and mountains and propels deep nutrient laden water to the surface where it is exposed to the long Alaskan days. Photosynthetic plankton bursts to life feeding a dense profusion of sea life. Sea stars, urchins, tunicates, and sponges cling in colorful hues of orange, red and purple to the intertidal zone of steep fjord walls. Tiny Marbled Murrelets, playful Stellar Sea Lions, and the gargantuan Humpback Whale make their living fishing for dense schools of Pacific herring that take refuge in thick forests of kelp. Our prolific runs of salmon carry home the ocean's nutrients, in their very own bodies, to their natal streams. This final act of sacrifice for their young feeds a rainforest of Western Hemlock, Cedar, and towering Sitka Spruces, creating the perfect habitat for bears, wolves, Sitka black tail deer, and nesting sites for the majestic North American Bald Eagle. There is no better way to experience this than one of our quiet seaworthy and expertly piloted Zodiac craft.
We provide rain gear, waterproof over boots, and a life jacket to keep you warm, safe, and dry. A light snack and hot tea or locally roasted coffee are also provided. We suggest you dress warmly and in layers and bring a camera to document your discoveries. Your personal belongings can be stowed in one of our waterproof dry bags to keep them secure and out of the elements. The boat is outfitted with all the required safety equipment and operated by a USCG licensed Captain.
Let us take you Out to Sea!
Less
Space and availability is limited, make your reservation today!
Don't see a tour time or date that fits your schedule?
What to Expect
· 2.5 hour eco adventure aboard a Zodiac expedition craft piloted by an experienced USCG licensed captain.
· Explore amongst narrow passages, rocky shorelines, emerald forested islands, and black sandy beaches.
· An expert naturalist will be there to identify birds, intertidal creatures, and marine mammals while explaining the ecology and history of the area.
· Small group size, limited to 12 passengers.
Provided
· Rain Gear
· Overboots
· Dry bags
· Lifejacket
· Light snack and hot beverages
What to Bring
· Warm layered clothing
· Camera
· Binoculars (we have a few pairs on the boat for people to use too)
· A sense of adventure
Cancellation Policy
· Free cancellation for any reason up to 24 hours before tour
· Full refund if we cancel for weather
· Full refund due to missed departure caused by cruise ship, ferry, or flight delay and other reasons outside of the travelers control
Price
Adult $165 plus tax
Child $ 120 plus tax