Meet the humans (and pups) behind Out to Sea Expedition Company. Learn more about your Captain, Expedition Leader, and the various roles committed to creating unforgettable adventures for you and your loved ones.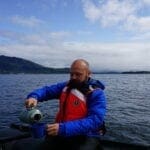 Owner & Captain of Operations
A Ketchikan local, Eric is an unabashed ocean and mountain junky with 25 years of experience in the maritime industry. When he's not directing our operations or captaining boats, you can find him climbing, trail running, paddle boarding, scuba diving, or hunting mushrooms. Believing in giving back to the community, Eric volunteers with the local search and rescue group, and serves on several boards.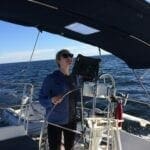 Owner & Marketing Director
Hailing from a family of fish pirates, sailors, and commercial fishermen, Delaney is a 5th generation Alaskan originally from Ketchikan. When she isn't acting as our Creative Expedition Officer & Marketing Director, you can find her hiking, paddling, traveling, volunteering with the local search & rescue squad, or taking photos of our many outdoor adventures.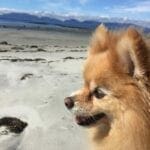 VP of Treats & Emotional Support
Paris is a cookie loving adventure pup and our Out to Sea mascot. She enjoys long naps, short walks, and roadtrips with her favorite humans (see Eric & Delaney). While she has mixed feelings about the ocean, she is always happy to be with her people, and even joined us on our October 2019 circumnavigation of the island. Follow along with her travels on Instagram